This one simple TWEAK to your business could generate Extra Revenue!
Do you know how many business emails your company sends each year?

Well taking away weekends and holidays each staff member is probably sending an average of a 10,200 business emails per year.

What if every single business email you and your staff sent out to your clients and prospects educated them on your services and encouraged them to contact you?

Clientcomm is pleased to announce that we have sourced a smart software solution Rocketseed Email Media, to enable your business to capitalise on your business-to-client communications. We have been trialling this product for 6 months now with excellent results.

We can now customise your emails sent out by each staff member with professional banners and signoff information turning each email into a unique marketing message.

With Rocketseed Email Media you
Transform your Emails into a Marketing Channel

Generate more leads

Drive more web traffic

Look more professional
Please click here to register your interest.
Rocketseed helps generate leads for a local Financial Advice business
Lifetrack Financial Services, a long time customer of Clientcomm, has been generating leads and writing new business simply by adding targeted marketing messages to staff emails.
Check out their email templates below to see how their emails now carry promotional messages and drive traffic back to their website.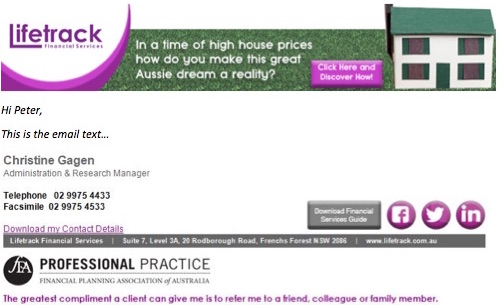 Rocketseed Email Media is a centrally managed, cloud based secure software that will allow you to maximise the branding and revenue potential of the tens of thousands of emails that go out to your clients and prospects each year.
In addition, Rocketseed Email Media allows you to build brand awareness, subtly promote your products and services, drive traffic to your website and social media pages, and even measure and track the click through and response rates of each recipient.
Clientcomm is excited to add Rocketseed Email Media to our range of services and be able to offer it to our valued clients.
Please click here to register your interest.